For a wedding anniversary, the birth of a child, or just because, a 'new' engagement ring can represent an even stronger symbol of your union. Here are six engagement ring upgrades you can make to give your love a whole new look.
Engagement Ring Upgrades #1: A Halo Setting
Adding a halo setting around a center stone is a popular choice for engagement ring upgrades because it can be a budget-friendly way to make the center stone appear larger and add more sparkle to your ring. This is a good option for those who are emotionally attached to their original diamond, or who may not be ready to upgrade to a larger stone.
Engagement Ring Upgrades #2: Colored Gemstones
If you're looking for instant drama and a way to make your center stone pop, consider adding a halo of colored gemstones to your engagement ring (colored gemstones also provide many creative options in customizing your ring). Create a halo featuring your spouse's birthstone, the birthstone of your child, or even encircle the diamond with a milestone anniversary gem, like sapphire for your fifth or 45th anniversary, or ruby for your 15th or 40th anniversary.
If you're considering this option, remember that the diamond in your engagement ring is highly reflective, so its color appearance is affected by its surroundings, including the color of adjacent stones and the color of the metal. You should discuss your colored gemstone choice with your jeweler to make sure it complements your center stone.
Engagement Ring Upgrades #3: Consider the Peg Setting
If your engagement ring has a peg setting, you're in luck! Changing out the diamond for a different stone is a snap.
But, what's a peg setting, you ask? Imagine a golf tee. Now put a golf ball on it (it's a diamond in our case), and add metal prongs to make sure the ball doesn't move: a peg setting looks and acts similarly. It holds a diamond in place, but a jeweler can remove the peg setting (which is mounted with a stone) and replace it with a different peg setting that can hold a larger diamond or different shaped diamond– without having to change the appearance of the rest of the ring.
Engagement Ring Upgrades #4: Add Side Stones
Adding side stones to your engagement ring is another way to dress it up while keeping your treasured center stone. You can put the new stones on either side of the center stone or in the band. You can also choose gems that complement or contrast with the center stone. Using different colored metals, like rose gold and yellow gold, can add more drama: truly, there are a lot of options to consider with such a change! Your jeweler or jewelry designer can advise you on the style and practicality of adding side stones and help guide your choice.
Engagement Ring Upgrades #5: Remount or Reset the Stones in a New Design
There was once a soon-to-be-groom who was short on money but wealthy in love – a familiar scenario. His mother offered her engagement ring so he could propose, and he gratefully accepted her offer. The bride was overjoyed by the proposal, but gently let her husband-to-be know that the ring wasn't her style. Once the couple had enough money, they worked with their jeweler to transform the old ring into a new one.
Since the bride loved jewelry from the Art Nouveau era, she wanted the engagement ring to incorporate motifs from the period.
The diamonds in the band of the original ring were used as accent stones in the engagement ring, while the diamonds from the halo were reset in the new wedding band. Because the bride preferred rose gold instead of yellow gold, the newly designed ring was cast in 14K rose gold.
This dramatic transformation shows how a family heirloom can be reimagined to fit the tastes and preferences of a modern bride.
Engagement Ring Upgrades #6: Add a Secret Message
Hiding a secret message is an engagement ring tradition that dates back many centuries. Adding one lets you share a special sentiment known only to you and your beloved.
The inside of a band can hold other secrets, like a line of poetry or a date marking a significant milestone you've shared as a couple. A secret message can be conveyed with small gemstones in the Georgian and Victorian tradition of acrostic jewelry, where a word is spelled using the first letter of each gemstone.
A Super Easy Engagement Ring Refresh
By far, the easiest and most affordable update is to freshen up your engagement ring is with  a checkup and a good cleaning. Have your jeweler inspect the ring to make sure it's in good repair and to fix any worn prongs that might cause damage or result in the loss of your diamond. A professional cleaning will also breathe new life into a ring, making it sparkle as it did when you first acquired it.
Just as love grows, so can your engagement ring. Adding a halo, colored gemstones, selecting a peg setting, remounting gems, adding a secret message, and adding side stones are just six engagement ring upgrades that  can bring new life to the symbol of your union.
If you're ready to move up to a larger diamond, a refresher on the GIA 4Cs of diamond quality is invaluable. Brush up on diamond color, clarity, cut, and carat weight, to make sure you're ready to make a smart purchase decision!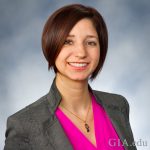 About this Post
This post was inspired by the expertise, designs and CAD renderings of Kelly Borrello, jewelry designer and GIA Jewelry Manufacturing Arts instructor. A graduate of Western Michigan University, Kelly also holds Graduate Gemologist, Graduate Jeweler, and Applied Jewelry Arts diplomas from GIA. After a five-year stint in sales and design with Famulare Jewelers, Kelly returned to GIA, where she shares her knowledge and passion for jewelry with students.