GIA is the Largest, Most Respected Nonprofit Source of Gemological Knowledge in the World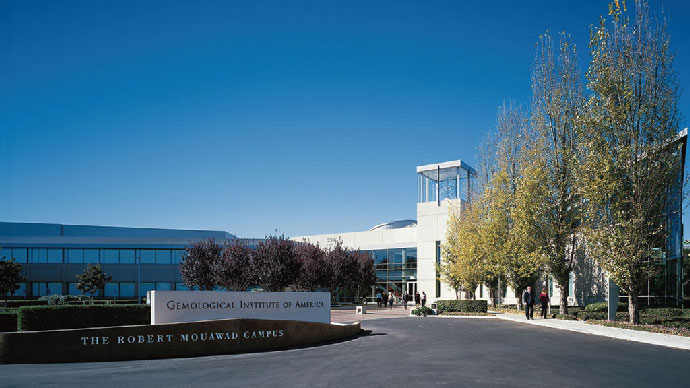 GIA exists to connect people to the understanding of gems. As a long-standing scientific authority, GIA is not only a unique source for diamond knowledge, its grading reports inspire confidence wherever they appear.
GIA's commitment to protecting diamond buyers inspired the Institute to create the Diamond 4Cs and the International Diamond Grading System™. These methods are the universal benchmarks by which all diamonds are judged. As the birthplace of these standards, and with its investment in continued gemological research, GIA's authority is unequaled.
The world's most respected retailers, museums, auction houses and private collectors rely on the expertise of GIA graders to assess, grade and verify their gems. They recognize the importance of complete, unbiased, scientific information in gem assessment, and absolutely trust GIA to provide it.
GIA's Mission
GIA's founder, Robert M. Shipley, had a tremendous impact on the world of gems. Shipley recognized the need for a comprehensive, international approach for understanding and evaluating gemstones. Without it, confusion and distrust would reign both at home and abroad. Shipley founded the Gemological Institute of America in 1931, not only as a place for gemological study and research, but also as an educational facility where gem knowledge could be organized and shared with the public. His goal, and the Institute's enduring principles, are clearly reflected in GIA's mission statement:
'Ensure the public trust in gems and jewelry by upholding the highest standards of integrity, academics, science and professionalism through education, research, laboratory services and instrument development."
Locations
World Headquarters
The Robert Mouawad Campus
5345 Armada Drive
Carlsbad, CA 92008
Laboratories
Campuses
Bangkok
Mumbai
Bangkok
London
Carlsbad
New York
Carlsbad
Mumbai
Gaborone
Ramat Gan
Dubai
New York
Hong Kong
Tokyo
Gaborone
Seoul
Johannesburg
Hong Kong
Taipei
Regional Branch
Research Centers
Dubai
Antwerp
Carlsbad
Bangkok
New York
Today, GIA has 14 locations spread across 13 countries. With 10 campuses, 9 grading and gem identification labs, 5 lab take-in locations and 4 research centers, GIA has a presence in all of the major gem and jewelry centers around the world. GIA has trained more than 365,000 students since it was founded in 1931.
The Institute's diamond graders, researchers and educators are regarded as the world's experts on gemology. Together, we carry on GIA's proud tradition of research, discovery, and education.