A heart-shaped engagement ring is unabashedly romantic and the perfect symbol of love. But did you know that heart-shaped diamonds are relatively uncommon in diamond engagement rings?
There are many reasons for this. Perhaps top among them the fact that the heart shape works best for larger diamonds – those that are at least one-half carat in size. But although uncommon, heart-shaped diamonds are having their moment in the spotlight. If you have your heart set on a heart-shaped engagement ring, read on for some tips to help you pick the perfect one.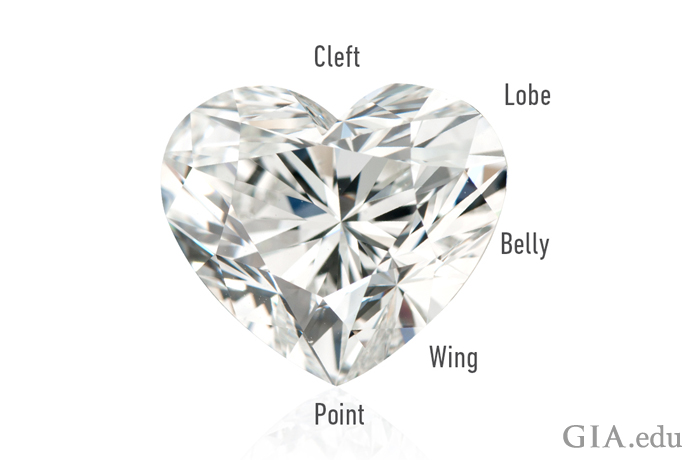 Heart-Shaped Engagement Ring: It's All about the Outline and Symmetry
The outline needs to reflect a traditional heart shape. You may find some that have pointed lobes or very flat wings, rendering an outline that resembles an arrowhead. Symmetry is a key indicator of quality in a diamond of this shape. (After all, who wants an off-kilter sign of affection?) Both left and right sides of the heart should match in size and shape, although it's not unusual for the width of the diamond to be greater than its length.
Here's a helpful tip you can use when you're in a jewelry store:
1. Draw an imaginary line down the center of the diamond you're eyeing.
2. Check to see if both halves of the heart match in size and shape, from cleft (the center V-shaped region) to lobes (the rounded portions) to point.
3. A symmetrical heart-shaped diamond should also have a length-to-width ratio of 1:1 to 1:1.2.
You're likely to see a number of heart-shaped diamonds that are asymmetrical. Examples of this include a poor length-to-width ratio, misshapen wings and an undefined point. Take a look at the asymmetrical heart-shaped diamond below.
Heart-Shaped Engagement Ring: Clarity Counts
Clarity characteristics can be easier to spot in heart-shaped diamonds. It's best to look for a stone with good diamond clarity. Avoid diamonds with eye-visible inclusions that could diminish their beauty and affect their durability and value.
Heart-Shaped Engagement Ring: Settings
Most heart-shaped engagement rings are relatively simple in design: streamlined styles emphasize the special silhouette of the diamond's shape, which offers plenty of drama on its own. Consider classic solitaire settings or elegant halo designs that trace the outline of the central diamond in small, pavé-set stones.
As a practical matter, it's smart to look for a diamond engagement ring that shields the point of a heart-shaped diamond, since it's the part of the stone most vulnerable to damage. Once you've found the heart of your dreams, you'll want to protect it.
Ready to go shopping? Pick up more tips with our blog post on Picking a Heart-Shaped Gem. It gets into the details of choosing the perfect heart-shaped gem to symbolize your love.
Main Image: Per Lei single shank heart-shape engagement ring. Courtesy: Danhov