If your pulse quickens at the site of an antique Victorian-era cameo, if an Art Nouveau pastel enamel and pearl pendant piques your nostalgic interest, or if a retro 14-karat gold bracelet seems irresistible, then you're part of the increasing number of those buying estate jewelry. From the bold geometric shapes of Art Deco to the lacy romanticism of the Edwardian style, estate jewelry offers a wide array of choices for the discerning collector. For those interested in uncommon designs and materials (and the occasional "good deal"), buying jewelry second-hand ca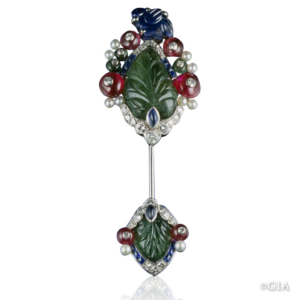 n be a rewarding experience – especially for the informed shopper.
The public's interest in estate jewelry has grown steadily over the last few decades, translating into increased sales at auctions and retail jewelry stores nationwide, according to professionals in this industry. Television programs dedicated to antiques and collectibles have further helped to fuel interest in estate jewelry.
By definition, estate jewelry is a term used loosely to mean any previously owned jewelry. But the most sought after estate jewelry typically features fine workmanship and high quality stones, as well as one-of-a-kind pieces. To be dubbed "antique," a piece must be more than 100 years old.
"Because there is a limited supply and it's usually irreplaceable, (high-end) estate jewelry is often called the 'caviar of the jewelry business'," said Michael Kazanjian, chairman of Kazanjian Bros. Inc., a Beverly Hills, Calif. firm specializing in high-end estate jewelry. "These days, the public is more sophisticated about quality jewelry, and they want original pieces," said Kazanjian.
When purchasing estate jewelry, buyers should check for dents, deep scratches, or missing stones. This examination can be done with the naked eye, or by using a jeweler's loupe (a 10-power magnifier), which can be purchased inexpensively. If you're not that much of a "do-it-yourselfer," find a trained gemologist to examine the piece for you.
Buyers should also look for evidence of repairs, such as unlikely solder joints. And be sure to ask for a receipt that includes a written description of the piece – including materials and approximate age. This is important, especially when getting an appraisal for insurance purposes. Finally, if a piece contains diamonds or gemstones, ask for an accompanying grading or identification report issued by an independent laboratory, such as the GIA Gem Trade Laboratory.
Whether one appreciates estate jewelry for the fine workmanship, vintage styles, or good deals, it's wise to be educated before buying. For those looking to become an even more savvy estate jewelry buyer, training in gems and gemology is available. For a free catalog, call GIA at 800-421-7250, ext. 4001, or go to www.gia.edu.