Want to send a secret message to your beloved using gemstones? Then you'll need to know about acrostic jewelry.
Acrostic jewelry is the spelling of a word by using the first letter of each gemstone. So an acrostic piece spelling the word "REGARD" looks like this.
Jean-Baptiste Mellerio (1765-1850), jewelry designer to Marie Antoinette and the French court, is credited with inventing acrostic jewelry.
Poetically called the "language of gemstones," acrostic jewelry reportedly enchanted Napoleon Bonaparte, who commissioned several pieces for family members.
In this antique French acrostic bracelet (circa 1860), the gems spell "SOUVENIR" which, in French, means remember or memory.
Acrostic jewelry gained popularity in Georgian England during the 1820s and 1830s and was in vogue throughout much of the Victorian era (1837-1901). "REGARD" and "DEAREST," two terms of endearment, were favorites given to spouses, family members, and lovers. Gems were also used to spell birthdays and private messages.
The outer circle of gems in this ornate antique acrostic locket (circa 1820) is from the British Isles and spells "REGARD." The inner circle takes the shape of a pansy flower meaning "thinking of you" or "you are in my thoughts" (two rubies, two diamonds, emerald and turquoise center stone).
Acrostic jewelry is experiencing something of a revival. Jessica McCormack, Lulu Frost, and Chaumet are a few designers and design houses making acrostic pieces.
Want to create your own piece of acrostic jewelry to give to a loved one? Here's one contemporary version of a gemstone acrostic alphabet.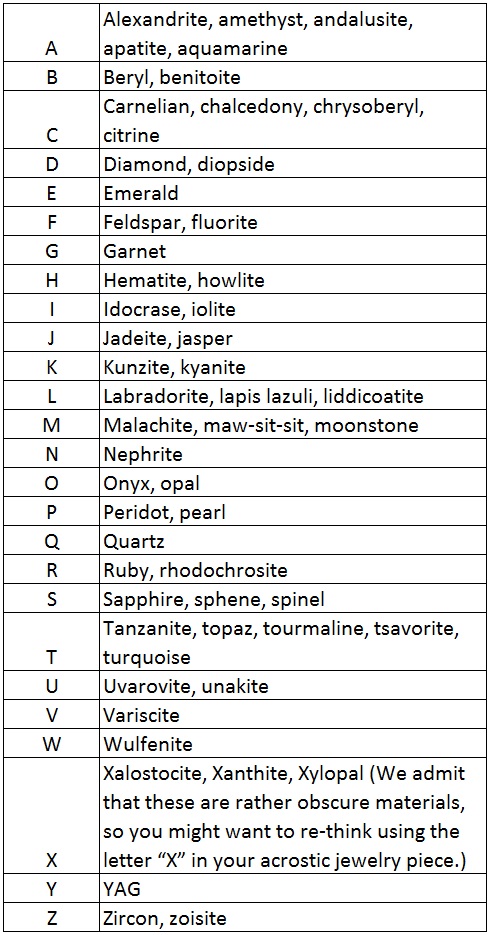 Intrigued by secret messages in jewelry? Then you'll love learning about the Lover's Eye.