Does GIA provide appraisals? It's a frequently asked question we often get from consumers trying to determine the value of a gemstone or piece of jewelry.
As an education and research institute, GIA does not provide gem or jewelry appraisals. We are not involved in jewelry or gemstone pricing in any way. Through our laboratory reports, GIA provides an independent, objective opinion of a gemstone's quality. Appraisers often refer to this information when determining the monetary value of a gem. And GIA may also provide the gemological training appraisers need. But GIA itself does not value or appraise gems or jewelry. That said, if you would like an appraisal, GIA offers these suggestions and tips to help guide you.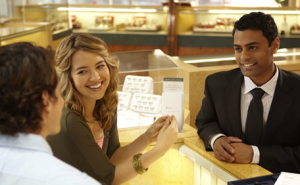 What is an appraisal and why would I need one?
An appraisal is a description and valuation of property. The value stated on the appraisal is the opinion of the appraiser based on her research and experience. Appraisals are done for many reasons ranging from a need to determine fair market value for estate planning to more commonly, replacement value for insurance purposes.
How do I find an appraiser?
One way to find an appraiser is by contacting the various appraisal associations themselves. These associations have members nationwide, and in some cases internationally, and will likely have an appraiser in your area. An advantage of seeking a referral through an appraisal association is that these groups require their members to uphold ethical and professional standards. Many also require their members to have specific appraisal training.
What do I look for in an appraiser?
Gem and jewelry appraisers should have both gemological and appraisal training. They should also have a thorough understanding of how jewelry is made. If an appraiser says she is "GIA certified," proceed with caution. GIA does not certify its graduates and at this time, GIA does not provide appraisal training courses. Many appraisers have completed the GIA Graduate Gemologist (GG) program, in which they've learned to identify and grade diamonds and colored stones. After graduation they may seek formal appraisal training through various associations or other schools. An appraisal is a legal document, so you should inquire about the education and experience of the appraiser you're considering.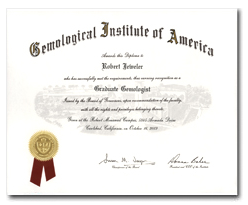 What should I ask an appraiser I'm considering?
Is the appraiser independent or is she an employee of the seller?
Where did the appraiser receive her appraisal training and what are her professional designations?
Does she belong to professional appraisal groups?
Will the appraiser provide names of clients whom you can contact for references?
Does the appraiser have experience in the type of appraisal she will be writing for you?
How does the appraiser keep current in the appraisal field and also in gemology?
What information will be included in the appraisal?
Does the appraiser have insurance to cover your jewelry while it is in her possession?
How much will the appraisal cost and how long will it take?
What should an appraisal report include?
Date of the appraisal
Client's name, address and contact information
Statement of the purpose of the appraisal
Detailed and clear/understandable description of the item being valued

Value of the item(s)
Statement/explanation of limiting conditions and assumptions. An example of a limiting condition is the appraiser has to estimate weight for mounted stones.
Disclosure statements  – be sure you read and understand the fine print
Signature of the appraiser
Appraiser's qualifications
Names of anyone who assisted in either the evaluation or valuation process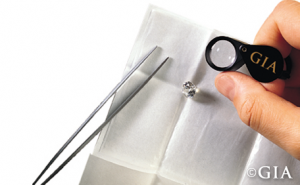 What if I don't like the appraisal?
Before having an appraiser document and value your jewelry, be sure to discuss exactly what you want and ask if she can provide an appraisal to meet your needs. This should prevent any miscommunication. However, if you are unhappy with the valuation, we suggest you talk with the appraiser about your specific concerns. If you are not able to resolve your issues, contact the association to which the appraiser belongs and ask how to proceed.
How often do I need to update an appraisal?
Many appraisers suggest updating an appraisal every two to three years, but ask the appraiser for her recommendation. If the appraisal will be used for insurance purposes, ask the insurance company if they have any requirements regarding updates. When updating an appraisal, the appraiser will reexamine the piece and document its current condition and may change in the value conclusion based on current market conditions.
While finding an appraiser might take some time, if your jewelry is ever lost, stolen or damaged, having a current appraisal will prove time and money well spent.