Are you looking to sell a gemstone or a piece of jewelry? Then you're in luck, because GIA has created an informative guide with all the facts and tips that you need.
Whether it's a piece of heirloom diamond jewelry or a loose colored gemstone found at the bottom of your jewelry box, these commonly asked questions will help you sell your gemstones or jewelry with ease.
1. How much should I ask for my item?
If you do not know how much money you should be asking for your item, we suggest that you get a fair market value appraisal first. Fair market value is the appraiser's opinion of what a willing buyer will pay a willing seller.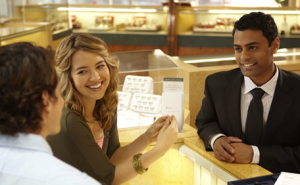 A trained appraiser will take into consideration the various factors that go into pricing: the quality of the gemstones or the jewelry, availability on the market, and desirability for that particular stone or piece of jewelry in your area. When the gemstone is mounted in a piece of jewelry, current fashion can also affect the price. Fair market value will give you a baseline price, to help you decide how much to ask for the stone or jewelry piece.
Looking for more gemstone-specific buying tips? Check out GIA's Gem Encyclopedia. 
2. Where can I find an appraiser?
To locate an independent appraiser, consider contacting the various appraisal associations: https://www.gia.edu/library-appraisal-associations.
You will find contact information for each association's headquarters in its particular country. Each association will have nationwide membership for that country. If none of these associations have appraisers in your area, then you will need to do more research in your country.
3. Are there GIA-certified appraisers? 
No, GIA does not certify appraisers. GIA teaches students how to identify gemstones and grade diamonds, but we do not teach them how to write appraisals. An appraisal is a legal document and an appraiser should have specialized training in this area. You should inquire about the education and experience of the appraiser that you are considering.
4. Can a Graduate Gemologist (GG) write appraisals?
Any person can write an appraisal. However, we suggest that you choose an appraiser who has training in writing appraisals along with gemological education and jewelry manufacturing experience or knowledge. GIA's Graduate Gemologist (GG) program educates students to identify and grade diamonds and colored gemstones. After our students graduate, they may decide to continue their education and become appraisers, often through one of the appraisal associations. When you contact these associations for a referral, you can confirm whether the appraiser also has a GG.
5. What do I do after the appraisal? Where can I sell my gemstones or jewelry?
After you have an appraisal, here are a few suggestions on how to sell your items. Read through these options to see which course of action is the best choice for you:
You could try selling your gemstones or jewelry through a local auction house or through an online auction site. If a gemstone or piece of jewelry is of high quality, you might consider selling it through one of the larger auction houses. Have a look at the gorgeous, noteworthy pieces in Auction Report: Gemstones of Fall 2014.
You could try selling it back to the person or jeweler who sold it to you. Most jewelers will offer you less than the wholesale value for the piece because when they buy from a private party, they must pay up front for an item that might remain in their inventory for some time before they find a buyer. When a jeweler buys from a wholesaler, they can purchase the item only when they need it and often spread the cost over several payments.
The jeweler you purchased the item from may also be willing to take it in trade. Often you will receive more money as credit toward a new piece of jewelry or another item from the jeweler's stock. If it's a piece of jewelry and its style no longer suits you, ask about trading the precious metal from the old mounting toward a new mounting for the gemstones.
You can sell the piece through an estate jeweler or a jeweler who takes pre-owned items on consignment. Usually you will not be paid for the item until it sells, and it is customary for the jeweler to keep a percentage of the sale as commission. Don't forget to ask about this important detail when you visit the store.
Approach other businesses
Find other businesses that purchase pre-owned jewelry or gemstones for resale. Approach them and see if they are interested in purchasing your piece, using the price point from the appraiser as a barometer.
With these tips, you are better equipped with the knowledge you need to sell your gemstones or jewelry for an appropriate price Have you already sold a gemstone? Share your experiences and insights in the comments below.
Main image photo by Robert Weldon/GIA.