Consumers have more options than ever when it comes to buying diamonds. In addition to jewelry retailers, you can shop conveniently from your computer, tablet, or smartphone. Many of the same considerations apply whether you're buying a diamond in person or online, but GIA has a few additional tips for shopping online that will help you click the "Buy Now" button with confidence.
As with any significant purchase, start by researching your options. Educate yourself about the diamond 4Cs and determine which diamond qualities are most important to you. This decision, along with your budget, will help guide your online diamond buying.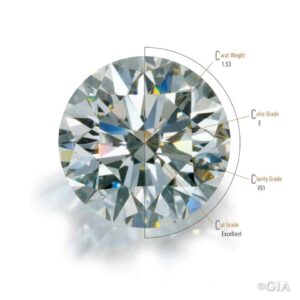 When shopping online, make sure you know exactly what you are buying. Some sites show diamonds with a range in carat weight, color or clarity. To ensure you know the value of the stone you're purchasing, ask for specifics on its 4Cs, not a range. Then, make sure the stone comes with an independent diamond grading report, like those provided by GIA, which provides an unbiased analysis of the diamond's 4Cs. For added security, you can verify a GIA grading report using the online Report Check tool, which will confirm that the information on the report matches the GIA database.
Once you've decided on the diamond that's right for you, there are a few quick checks to do on the company you're buying from. You'll want to know:
• How long has the company been in business?
• What kind of reviews has the company received?
• Does it belong to any jewelry trade associations? (Associations often have strict requirements around quality and service)
• Do they offer secure transactions?
• How is their customer service?
• What is their return policy?
• How will the diamond be shipped? Is the shipment insured? Is signature required for delivery?
There are a few more considerations when buying from online auction sites. In addition to the questions listed above, you'll also want to look into:
• Seller feedback & comments
• Is payment processed through a secure service such as PayPal or PayDirect?
• Is the seller located in the US?
• Is the seller providing sufficient evidence of the diamond's authenticity? (photographs, diamond grading report)
Working with foreign sellers, or using cash, check or money order for your purchase, can greatly reduce your options for recourse in case of a fraudulent sale.
Once your beautiful diamond is in-hand, have an independent appraiser confirm that it matches the description and accompanying paperwork, and provide you with the value of the diamond for insurance purposes.

You can also choose to have it laser-inscribed with a permanent and microscopic marking on the gem's girdle (in some cases the diamond comes with an inscription, or it can be requested at the time of purchase). GIA can inscribe a diamond with its unique GIA report number, or a personal message or symbol, for identification.
While the vast majority of online diamond purchases go smoothly, there are cases of false or misleading online sales. US-based consumers have options for recourse, including reporting the website to the Federal Trade Commission (FTC), or pursuing the case in civil court. Foreign-based retailers that do not have a physical presence in the US, are, for the most part, insulated from recourse, and attempts to recover funds can be very frustrating. However, by following the recommendations above, you greatly increase your chances for a stress-free and secure online diamond purchase.
Have you ever purchased a diamond online? How was your experience? Let us know if you have any tips for others about the process.