As you're enjoying this exquisite necklace, see if you can figure out what makes it so beautiful.
Negative space – the empty area between two objects – is part of what makes Croft's necklace so stunning. Look at the necklace again, and you'll see the design is fairly simple. It's the sophisticated use of negative space, which creates ten teardrop shapes, that gives the necklace a regal beauty.
Negative space is a design element favored by Minimalists. It's part of the "less is more" school of thought – a philosophy that says that an object doesn't need to be ornate to be luxurious. And it calls on you, the wearer or viewer, to fill in the missing details with your imagination.
There's also a practical side to the use of negative space in jewelry design. Due to the high price of precious metals, negative space allows designers to make inspired pieces that are affordable because they use less material. So the use of negative space is ultimately a blend of necessity and aesthetics.
Negative space is a trademark of contemporary jewelry. Given the cost of precious metals, it's not likely to go away.
Now that you understand the concept of negative space, you can fully appreciate this gorgeous jewelry showcasing its inspired use.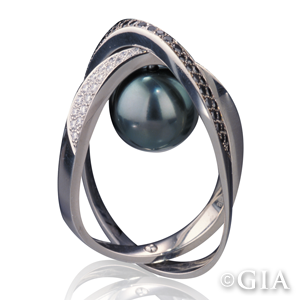 Mark Schnieder's – MJSA American Vision Award 2002 winning design of a convertible ring/pendant is a study in negative space. The interlocking platinum bands create quarter moons, while black and white diamonds add contrast. When worn as a ring, the black Tahitian cultured pearl looks like it is suspended above the finger.
Tamara Comolli's exquisitely simple bracelet has just three design elements: an 18k gold bangle, three star-cut diamonds, and generous use of negative space. In fact, one can say that the negative space gives the piece its character. Another creative touch: the diamonds roll back and forth along the channel.
Jean-Claude Schweizer's 1965 Swiss Jewelers and Watch Retail Association Award-winning "Concorde" brooch presents an unconventional design in gold which is abstract and jagged edged. Schweizer also uses negative space to create contrast and to highlight the texture of the metal.
Negative space adds a layer of richness to Laurence Ratinaud's 2006 Tanzanite Celebration of Life Jewelry Design Awards 18K white gold ring. Ratinaud's innovative design with a single gemstone represents conception, and the tanzanite signifies the seed of life. Negative space evokes the womb protectively surrounding the 3.92 carat tanzanite, while the white gold wire loops suggest movement, life, and eternity.
While many of these stunning designs are one-of-a-kind masterpieces, the use of negative space can be seen throughout jewelry design. Think about hoop earrings, or a pendant necklace with an open heart or connected loops.
Now go look at your own jewelry collection. Do you see the expert use of negative space? It's there…you just have to focus on what you don't see.
Main image is Paisley Pendant/Brooch © Barbara M. Berk 2000.