Captivated by pearls? You're certainly in good company. A favorite of legendary women including Cleopatra and Queen Elizabeth, these beautiful spheres are the only precious gems made from a living creature – the mollusk.
Rare natural pearls have been considered a symbol of wealth and power over the ages. Luckily for pearl lovers today, cultured pearls allow almost everyone to have affordable access to sophisticated pearl jewelry. If you're holiday shopping for others, consider pearl jewelry and you might even have enough left over for a little self-gifting, too!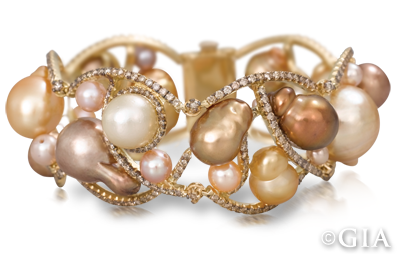 Here is a holiday shopping guide to help you with your pearl jewelry shopping:
1. Pearl: The June Birthstone
For someone born in June, what's better than a jewelry gift showcasing her birthstone – a beautiful pearl. The Ancient Greeks associated the pearl with Aphrodite, the goddess of beauty and the Chinese saw a link between the moon and a pearl's glow. Some believe that wearing pearls brings mental clarity – what a great gift idea!
But you don't have to be born in June to wear pearls, and you're not just limited to the white or cream varieties either. In fact, when it comes to pearl jewelry, one has a wide variety of colors to choose from.
2. Know Your Cultured Pearl Types
This holiday whether you're looking for classic white pearls, cream or a more unique greenish gray, the pearl color palette extends to every hue. Different cultured pearl varieties produce different colors:
Akoya pearls come from Japan, China, and Vietnam and are usually cream or white, some with hints of pink or green.
South Sea pearls can be silver, white or golden.
Tahitian pearls come in striking colors like eggplant purple, peacock green, metallic grey, and greyish blue.
Freshwater pearls are cultivated mostly in China and are abundant, coming in a wide range of sizes, shapes, and colors, including yellow, pink, and purple.
Get to know more about the rich history of cultured pearls that includes the famed Mikimoto.
While color is an important aesthetic decision in choosing pearl jewelry, you should also understand all the factors that go into determining a pearl's quality, and ultimately, it's value.
3. Know the GIA 7 Pearl Value FactorsTM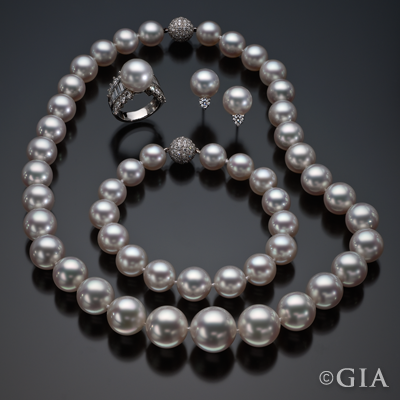 You may have already heard about the GIA 4Cs – the universal language of diamond quality, but did you know that GIA also created a language for pearls?  Established over a 60-year period of ground-breaking research, GIA's 7 Pearl Value Factors provide a systematic way to evaluate pearls, and describe their quality in a way everyone can understand.
GIA evaluates pearl size, shape, color, luster, surface, nacre thickness, and matching. Of the GIA 7 Pearl Value Factors, matching is the only one that is not inherent to the pearl. It describes the uniformity of pearls in a strand or multi-pearl piece and relies upon the jewelry designer to make those decisions. To learn more about the GIA 7 Pearl Value FactorsTM, visit our Pearl Buying Guide.
If you're making a significant pearl purchase, you'll want to be sure that the pearl(s) quality has been evaluated by an independent, unbiased gem authority like GIA.  GIA Pearl Reports, describe the pearl's value factors, identify whether the pearl is natural or cultured, and disclose any detectable treatments discovered during analysis.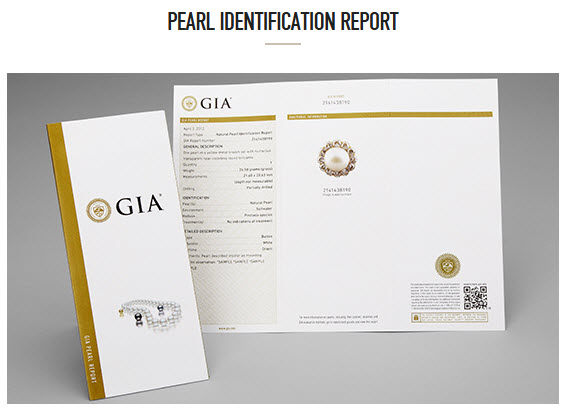 4.  Care for your Pearls
Take care of your pearls, and they will be a lasting treasure. Like most beautiful things, pearls are delicate, so they require extra care. Be careful of chemicals in perfumes, makeup, and hairspray that can eat away at the pearl's nacre, causing dullness. Protect your pearls from contact with ammonia or chlorine – so no wearing pearls while cleaning the house, and don't ever wear pearls in the pool!  For more tips, including how to properly store pearls, be sure to consult our guide to cleaning and caring for pearls,.
Has a pearl captured your heart this season?  Tell us which one!
Main image courtesy of Platinum Guild International.