The to-do list around the holiday season seems endless! You're busy attending events, hanging holiday decorations, sending cards…and then, you still have to find time to buy gifts! If your holiday shopping list includes a diamond or piece of diamond jewelry, GIA can help.
Here are 5 easy tips to help you choose the perfect diamond gift.
1. Choose a Reputable Jeweler
Before purchasing a diamond during your holiday shopping, it's important to choose a reputable jeweler you can trust. Ask for their credentials and look for a diploma from an international gemological school like GIA. For even greater assurance, find out to which professional associations he or she belongs. Jewelers with a GIA Graduate Gemologist credential learn the scientific and technical knowledge needed to examine the entire range of diamonds and gems. Remember, this jeweler will be your advisor throughout the diamond buying process and potentially beyond the holiday season, so be sure you select someone who is well educated, has a good reputation, and is excited to share his or her knowledge with you.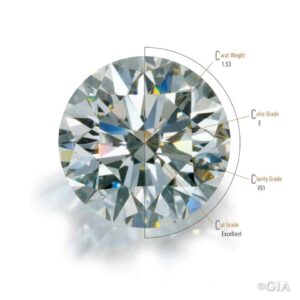 2. Ask Questions
Knowing the right questions to ask a jeweler will help immensely while holiday shopping, allowing you to make a stress-free, informed decision. A good jeweler will understand and  explain  the 4Cs of diamond quality and provide an independent grading report to support his claims about a diamond's quality characteristics. Consider your time in the store a learning experience, and don't be shy about asking questions!
3. Know the Difference between a Diamond Grading Report and a Diamond Appraisal
A diamond grading report is not the same thing as an appraisal and understanding the differences between a diamond grading report and a diamond appraisal is key. A diamond grading report is an official document that tells you the specific measurement, shape, and individual characteristics of the diamond, whereas a diamond appraisal is an estimate of the diamond's monetary worth. An appraisal of value is based on the quality of the diamond and current market conditions. Both of these documents can provide greater insight into the attributes of your diamond.
4. Get the Most for your Money
You'll want a good value diamond when purchasing a gift during your holiday shopping.  Look at three factors—taxes, the degree of competition among jewelers, and consumer demand—when determining a diamond's retail cost to get the best price on a diamond. Also, use caution when shopping for low cost diamonds. Diamonds offered at a significantly lower price will likely be much lower quality as well.  Remember that price and value don't always equate. In addition to price, you should factor in warranties, return policies, and any other special programs a jeweler might offer, such as periodic cleanings or an upgrade program.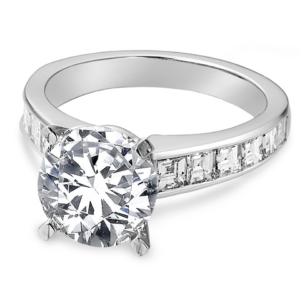 5. Consider Shopping Online
To save on time and avoid crowds, many people turn to online shopping during the hustle and bustle of the holiday shopping season.  While there's no substitute for the brick and mortar experience when you're shopping for diamonds, online shopping may be the right option for you. GIA can help you make this significant purchase from an informed position. Consult our guide for Online Diamond Buying to make a confident purchase.