For many, jewelry shopping can be an intimidating experience. Add crowded malls, a long list of gifts to purchase, and the desire to get 'just the right thing,' and it can be downright stressful. But knowing what to ask a jeweler can help make this a great shopping experience
In part 4 of our 2013 Holiday Buying Guide, GIA put together the top five questions to ask a jeweler when you're shopping for jewelry this holiday season.
Feel free to bookmark this page, print it out, or pin it: just keep it handy as you walk into any jewelry store or visit an online retailer. With the right questions, you can be confident in what you're buying.
1. What are this diamond's 4Cs? Can I see an independent grading report?
A jeweler should be able to explain a diamond's 4Cs in detail and produce an independent diamond grading report to support his explanation. An unbiased diamond grading report, such as the GIA Diamond Dossier®, GIA Diamond Grading Report, or GIA Diamond eReport, ensures that you will know your diamond's quality and authenticity. For a quick summary of the 4Cs, see part 2 of our 2013 Holiday Buying Guide, 4Cs Tips for Holiday Diamond Jewelry Shopping.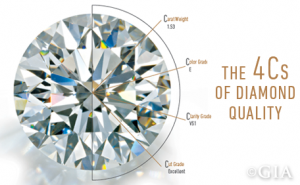 2. Can I see other options in my price range?
Many factors contribute to how a piece of jewelry is priced: the type of gemstone(s) used and it's quality, the type and quality of the metal in the setting, overall design and craftsmanship, just to name a few. A jeweler should be able to provide you with a variety of choices for any given price point.
3. How do I take care of this piece?
Wearability and care are important considerations. If the piece includes gemstones other than diamond, be sure to find out where they rank on the Mohs scale, which represents gemstone hardness. Ask your jeweler to explain the metal used – some metals are more durable than others. And be sure you know whether the gemstone has been treated, since treated gemstones will require special care. Whether you're looking for an everyday or special occasion piece, it's important to understand the care and cleaning tips for any jewelry you purchase.
4. What are your credentials?
You'll get the best shopping experience from a jeweler who is professionally trained and experienced. Most jewelers are proud to display their professional diplomas from internationally recognized gem and jewelry schools like GIA. In addition, they may be members of trade and business organizations, like the American Gem Society (AGS), Jewelers of America (JA), and your local Chamber of Commerce.
5. What is your return policy?
While everyone wants to give the perfect holiday gift, sometimes the piece just isn't quite the taste of the recipient. Just in case she was hoping for something different, ask about the return policy. For a significant diamond purchase, like an engagement ring, you might want to also ask about any trade-in programs for a larger diamond down the road.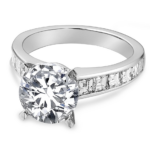 To avoid holiday crowds, many people opt for online shopping. GIA has a separate set of tips for online shopping that covers online retailers as well as auction sites.
And while GIA doesn't specifically recommend jewelers, it does offer tools to help you find a jeweler in your area who carries GIA-graded diamonds or have GIA-trained professionals on staff.
Our 2013 Holiday Buying Guide continues next time with an in-depth look at special gemstone cuts and fancy shapes. Prepare to be wowed!