The legendary beauty of June's luminescent birthstone has been celebrated for centuries. We explored the pearl's history and lore, the various types of pearls available, and how a pearl's value is assessed and what to look for when purchasing a pearl. Now we are going to discuss how to care for one!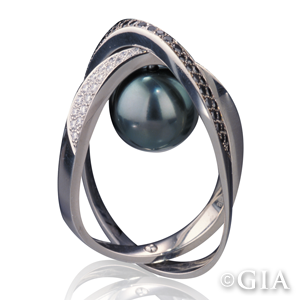 Pearls are one of the more delicate gemstones, so they require extra care. Avoid wearing pearls when cleaning the house or doing yard work to avoid scratching. Chemicals contained in perfume and the ingredients in makeup and hairspray can eat away a pearl's nacre, causing it to dull permanently. Cleaning products containing chemicals such as ammonia and chlorine should also to be avoided, so don't ever wear your pearls in the pool!
Pearls need a certain amount of moisture to retain their beauty, so avoid storing them in airtight or overly dry environments. Luckily, the human body provides just the right amount of moisture to maintain a pearl's effervescent luster. Pearls are made to be worn and enjoyed!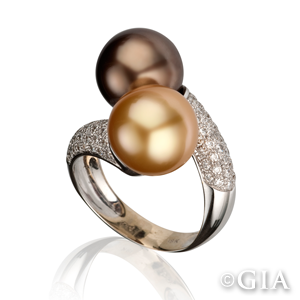 Here are some more great tips to help keep your pearls as beautiful 50 years from now as they are today.
• The best way to clean pearls is with a soft, damp cloth, ideally after each time they are worn.
• Pearls should never be cleaned in an ultrasonic or steam cleaner. Warm soapy water is safe, assuming the nacre is in good condition. Make sure strung pearls are completely dry before wearing.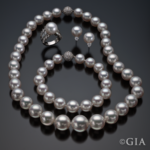 • Store pearls separately from gemstones and metal jewelry, which may scratch their surface.
• Never store your pearls in a plastic bag. Plastic can emit a chemical that will damage the surface of pearls. The same is true of cotton wool.
• Don't store pearls in a safe deposit box for long periods of time. Like your skin, pearls need a little moisture so that they will not dry out.
• Always apply perfume, hair products and cosmetics before putting on your pearl jewelry.
• A good rule of thumb is: when dressing, pearls should be the last thing you put on and the first thing you take off.
We hope you've enjoyed learning about pearl care. If you are looking for more information on these spectacular gemstones, you will enjoy our new book 'Splendour & Science of Pearls'.