September's birthstone, the sapphire, is known for its various shades of blue, however, these gemstones come in every color of the rainbow. A red sapphire is actually a ruby, the September gem's sibling. Both of these gems are made from the durable mineral corundum. The rare pink orange variety known as padparadscha is especially prized, named after the color of a lotus flower.
These gemstones are faceted in all shapes. Star and cat's eye, two of the varieties sporting unique optical characteristics, are fashioned as cabochons, a domed or elliptical shape meant to showcase its rare optical phenomena. Other sapphires change color in different types of light, but these special stones are considered to be collector's gems.
The ancient Persians believed the earth actually rested on a giant sapphire, which made the sky blue. This beautiful gemstone is associated with fidelity and the soul, believed in ancient times to be a pledge of loyalty.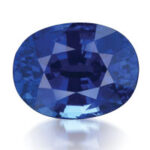 Check out sapphire in the GIA Celebrates Birthstones exhibit at the GIA Carlsbad campus. Schedule a free tour 24 hours in advance by contacting guestservices@gia.edu; calling 800-421-7250, ext. 4116 or 760-603-4116; or visiting www.gia.edu.