Opal, October's birthstone, is a captivating gemstone because of its unique optical characteristics. Opals often exhibit a spectrum of colors called "play-of-color," when viewed from various directions. The Roman naturalist, Pliny the Elder, referred to opal's play-of-color in the 1st century AD when he wrote: "For in them you shall see the living fire of ruby, the glorious purple of the amethyst, the sea-green of the emerald, all glittering together in an incredible mixture of light."
When set against a dark background, the stone is known as "black opal" and is considered rare and very valuable. The more commonly found "white opal" has a light background. Australia produces 95 percent of the world's fine opal.
Treasured in the Middle Ages, the opal was called ophthalmios, or eye stone, due to a widespread belief that it was beneficial to eyesight. Some even thought the opal's effect on sight could render the wearer invisible. Today, October's birthstone represents hope.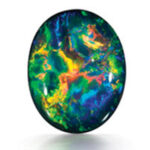 Check out opal in the GIA Celebrates Birthstones exhibit at the GIA Carlsbad campus. Schedule a free tour 24 hours in advance by contacting guestservices@gia.edu; calling 800-421-7250, ext. 4116 or 760-603-4116; or visiting www.gia.edu.