November's birthstone, citrine, comes in the colors of citrus fruits, ranging from deep reddish orange, reminiscent of Madeira wines, to pale and saturated yellow hues. In fact, its name is derived from the French word "citron," which means "lemon." Citrine's optimistic colors bring to mind the warmth of mid-day sunshine.
Brazil is its main source for this gemstone, but the gemstone is also found in many African countries such as Zambia, Namibia and Madagascar. In ancient times, citrine was carried as protection against snake venom and evil thoughts. It is also believed citrine may heighten awareness.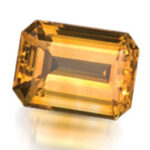 Check out citrine in the GIA Celebrates Birthstones exhibit at the GIA Carlsbad campus. Schedule a free tour 24 hours in advance by contacting guestservices@gia.edu; calling 800-421-7250, ext. 4116 or 760-603-4116; or visiting www.gia.edu.